Archive Maps of The Rich Odyssey
(Most Recent Map First)
All maps are thumbnails. Click on each one for full details.
Archive Route Maps: Auckland, NZ to Dunedin, NZ
December 17 to January 16
Route Map: Picton, NZ to Dunedin, NZ
January 2 to January 16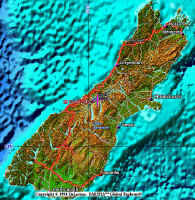 New Zealand
1Picton, NZ; 2 Blenheim, NZ; 3 Nelson, NZ; 4 Hokitika, NZ; 5 Franz Josef Glacier, NZ; 6 Wanaka, NZ; 7,9 Queenstown, NZ; 8 Alexandra, NZ; 10 Tu Anau, NZ; 11 Dunedin, NZ
Route Map: Wellington, NZ to Picton, NZ
January 2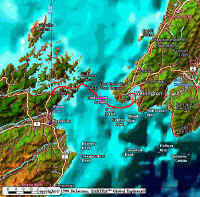 New Zealand
1Wellington, NZ; 2 Picton, NZ
This trip is via a 3 hour ferry.
Route Map: Rotorua, New Zealand to Wellington, New Zealand
December 27 to January 2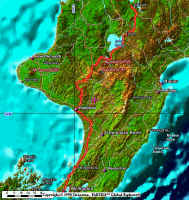 New Zealand
1Rotorua, NZ; 2 Taupo, NZ; 3 Tongariro Natl Park, NZ; 4 Wanganui, NZ; 5 Paraparaumu, NZ; 6 Wellington, NZ
Route Map: Auckland, New Zealand to Rotorua, New Zealand
December 17 to December 26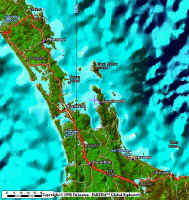 New Zealand
1Auckland, New Zealand; 2 Whangarei, NZ; 3 Paihia, Bay of Islands, NZ; 4 Opononi, NZ; 5 Te Kopuru, NZ; 6 Auckland, NZL; 7 Hamilton, NZ; 8 Rotorua, NZ; 9 Whakatane, NZ; 10 Ohiwa, NZ; 11 Rotorua, NZ