Odyssey Introduction
April 1 to May 13
Welcome to our Odyssey! eTrippers.com follows the Rich Family as they travel the world from May, 2000 through July, 2001. This extended departure from our routine will be chronicled with regular updates to this site as well as e-mails to our extended family back home. For additional information, or to give us comments during the construction phase of this site, please contact us at mail@etrippers.com. We plan to be live with our working web site by May 1, 2000. Stay tuned!
Here are Dennis, Jennifer, and Stephanie as they accepted their 1998 33 ft Fleetwood Bounder RV for the first six month North America Part of the Odyssey. They are hard at work getting it and them ready!
Here is what our Fleetwood Bounder looks like!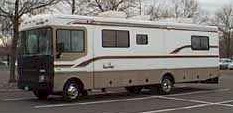 Here are a couple of interior pictures. The first picture is the kitchen. This part of the RV 'slides' out to give us about 14 ft x 3 ft more room. The second picture is of the bedroom. A cozy 'queen' sized bed is standard. These are thumbnails -- you can click on them for a much bigger view.
Introduction to

Staying Connected: A Rich Family Odyssey
Jennifer, Dennis and Stephanie Rich are leaving home. Not exactly running away from home, but living temporarily in a bigger neighborhood.
In May, 2000 the Rich family will begin a fifteen-month trip of a lifetime, exploring their world, its culture, history, and wonders. While traveling they expect to break new ground individually, as a family, and as travelers who hope to maintain ongoing connections to home, friends, and business interests, despite the barriers of time and distance, using technology which is still emerging in the earliest days of the 21st Century. They've dubbed the adventure "A Rich Family Odyssey" as they describe the journey from planning stage to "reentry", a trip that will take them far from home, hopefully to return richer for the experience, and closer to their cultural heritage than ever.
Beginning in April 2000, Jennifer has taken an 22-month leave (or sabbatical) from work, Dennis will transition his business to his partner, and Stephanie completes the last cycle of testing in 4th grade. In early May, the 14+ month Odyssey will begin, taking the three Riches to the ends of the earth and back. The first 6+ months will be spent in a 33' RV touring the US and Canada, seeing and touching their history first hand, and learning about the geography and culture of the US and North America. After repacking and reorganizing, in November/December, they will start around the world, westbound from the Panama Canal, visiting people, places, flora and fauna on four or five continents, punctuated by extended stays in New Zealand, France and the UK.
In STAYING CONNECTED: A RICH FAMILY ODYSSEY, they will capture the spirit of this family experience: a once in a lifetime opportunity to grow as a family, to explore the globe, learn more about how it works, and bring the experience home again. They are willing to share what they learn, and help others tag along via their web site, email lists, and publications to stay in touch.
Welcome aboard!