West Coast
Oregon, California
Travels from Oregon along the West Coast to Southern California: October 19 to November 6
(Pictures are thumbnails. Click on them for a larger view. You may click on the subjects listed to go directly to them.)
Subjects: Crater Lake Oregon Caves Pacific Coast Redwoods San Francisco with Tim and Pam Monterey Bay Aquarium Laguna Seca Campground Coast Highway 1 Critchells in Los Angeles Palm Springs with Sean Harmon Adventures with the Harmons and Mom Rich Getty Museum
We headed south out of the Portland area bound for one of the most beautiful spots in the country: Crater Lake, OR. This lake was formed after the mountain erupted a long time ago and left a gaping crater. Gradually, rain and springs have filled the crater to a depth of 1,932 feet! It has reached its equilibrium at that point and the incoming water matches the amount leaving from seepage and evaporation. So, the lake surface changes very little. As we headed for Crater Lake, we climbed along the headwaters of the Willamette River, passing Crescent Lake and a partial view of Diamond Peak, another long dormant volcanic peak. We came into the Crater Lake National Park from the north in some snow, and, once we reached the lake, we were worried that the view would be totally obstructed. The clouds at the vantage point broke revealing the view of the lake that you see. We proceeded south, and were blessed with even more spectacular views. The island shown in the middle of the lake is named Wizard Island (for all you Harry Potter fans out there!).
Betty looks good against a backdrop of very blue sky. At each stop, we had to tromp through 6 inches of snow, but the roads were all clear. Another view from the south at the visitor center. Heading towards Grants Pass along the Rogue River, we saw a spectacular chute that the river goes through.
Another National Monument that we had not heard of until looking closely at the map is the Oregon Caves National Monument. It is a long way off the main highway, but well worth the trip. This is one of only a few marble caves (as compared with the more common limestone caves) and the structures are smaller and more intricate. While walking (sometimes nearly crawling) through the caves, we were treated to some great views. Here are two. The National Park Service has stabilized the cave by placing air lock doors in the cave to control air flow and put it back the way it originally was before man started digging around and widening entrances. Bats, of course, live in caves, and the Park Service has found that leaving them undisturbed during hibernation has increased their population back to earlier levels. Denny and Stephanie stand in front of one of the locked enclosures that still lets the bats come and go freely, while still keeping unwanted humans out.
We proceeded to the California Coast as we planned to tour through the many Redwood State and National Parks. These are some scenes of the Pacific Ocean on our way down the Northern California Coast.
The Giant Redwoods are really something to see in person: you can't appreciate the size of these huge trees until you are standing next to one, craning your neck to see the top. While there is a Redwood National Park, it runs together with several California State Parks. The parks are all jointly managed and controlled as one very large park running down the Northern California Coast. Stephanie cranes her neck to see the top of 1,500 year old Big Tree, which is 304 feet tall and 68 feet in circumference. The redwood logs in the forest leave some pretty interesting patterns, called burls, to see. Next, Stephanie stands inside a hollowed out log in one of the visitor parking lots. The roads through the redwood forests are narrow, and we were careful with Betty as we navigated around the large trees. If you go, follow the Avenue of the Giants, which runs parallel to the main road.
You can see that Betty pales in comparison to these tall trees. Last, Jennifer and Stephanie walk through a tree that cars (small ones) can drive through. This is a tourist trap place and the people who own the slanting tree have it held up with cables in every direction. If it fell down, they would be out of business.
Back to Top
San Francisco with Tim and Pam
Traveling down the California Coast, we headed to San Francisco, a city everyone likes. Denny's son, Tim Rich, and friend, Pam Brewster, live there, and we enjoyed spending some time with them and seeing the city. Here we are getting ready to cross and then crossing the Golden Gate bridge. Denny was too busy keeping Betty in the narrow lanes to do much sight seeing on the bridge or in the very busy city that we passed through. Luckily, highway 101 does not go up or down hugely steep hills.
We headed to Pacifica, CA which is on the coast just south of San Francisco. The weather and the view were spectacular from our primo location in the RV park, on the corner overlooking the bluff and beach below. This was one of those views that they put in all RV sales brochures. While a lot of our views have been super looking out of Betty, none really matched this one. Denny is on the cell phone at the table in front of Betty. A view to the north of our spot, one in the daytime and one at sunset.
Here is a picture looking out the front window across the Pacific and the sun set. As you can see, the bluff is shrinking with each major storm, and the asphalt sidewalk is now a real cliffhanger...at least the part that is still there. You can just make out a freighter about to pass by the setting sun. The next day, we all went for a walk on the beach that was below the cliff on which we'd slept.
Here are Tim and Pam with our cat, Java, as they get a quick tour of Betty. Next, a view from the top of Sony Center, which is a new complex built next to the expanding Yerba Buena Center downtown. It is a great place for kids. We intended to go with Stephanie to see a major exhibit, How Things Work, but it was closed for a private party. Bummer. But, we did go to another major exhibit, Where the Wild Things Are (from the books of the same name). You can see an example of the creative art they have there. It would be a must for little kids under the age of 7. Steffi had a good time anyway.
No trip to San Francisco would be complete without a ride on the Cable Cars. They are very popular, and we waited some time to return from Fisherman's Wharf. Stephanie liked the ride, but was disappointed she didn't get to stand on the side hanging on... we had a seat. The ride costs $2 now, but is well worth it. You see the platform at the end of the tracks where they reverse the cars for the return trip. After a day of sightseeing, Steffi is enjoying playing at Tim and Pam's nice apartment with their two cats. Kobe is in her arms, upside down, and Mia is above her on the rug We dumbly didn't take any more pictures of Tim and Pam. Sorry.
Back to Top
Monterey Bay Aquarium
In our travels, we have been to a number of aquariums. The one in Denver is very well done too.
But, the Monterey Bay Aquarium is not to be missed. The displays tell the story of the Bay itself, from the nearby Tidal Flats to a very deep ocean trench, which lies just off the coast. Here are just a few shots of some of the more colorful exhibits from Sand Dollars to Star Fish to Sea Anenomies to a bright reflecting school of anchovies.
Back to Top
Laguna Seca Campground
Driving down the California Coast from Pacifica to Monterey Bay in some strong wind and rain took a while. We had enjoyed the Monterey Bay Aquarium so much that the day was pretty well done when we finished. Looking for a nearby RV park, we elected to stay in a Monterey County Park next to the Laguna Seca Raceway. It was great, affording great views all around and even one looking down on the race track. We learned that on race days, this park, which was virtually empty, is jammed full with an international crowd. We could see why. As we parked late, we saw a sign that said the Ranger would collect the money at your camp site. Even though it was late (about 6:30 PM), a knock on the door brought a very nice ranger to collect the fee. What service! And it even had electric and water hookups. Here you see a view of the raceway with a sleek race car zooming by on a practice run. The next view is of Betty parked at the top of the hill. The hill to the park is a 17% grade, so we elected to disconnect the jeep for the trip down to the bottom!
Debating the next morning which direction to go to the South, Denny opted to travel California 1 along the California coast. While the road is slow due to winding curves and hills, the views are great of the ocean, trees and wild life along the way. Some years, the road is closed due to land slides. This year, the slides had only taken out half the road in spots where you had to wait on a light to let traffic go one way only on the single remaining lane. The first three pictures give you some idea of the views we saw with periods of sun and rain intermixed all along the way.
Jennifer is convinced she saw thousands of sea lions in the water. Stephanie and Denny think most of them were birds, but we could not be sure. However, at one point, just north of Hearst Castle, there is a wildlife refuge for elephant seals, which you can see in the next picture especially if you click on it. They come here to give birth (in the winter!), but at this time of year only old and young are on the beach; the adults are still out to sea. Finally, if you click on the next picture for a better view, you can see surfers enjoying some big waves caused by the rainstorm.
Back to Top
Critchells in Los Angeles
No trip to Los Angeles would be complete for us without a visit to Howard (Critch) and Iris Critchell, very good friends from Denny's days learning to fly (Iris was his flight instructor) at nearby Harvey Mudd College. They live in Claremont and enjoyed getting an update and a tour of Betty. Critch especially enjoyed seeing the slide out operate, giving us more living space. Here are a couple of pictures (with the slide in) including Stephanie keeping our attack cat, Java, under control.
Back to Top
Palm Springs with Sean Harmon
Unfortunately, we had to cut our visit with the Critchells a little short, because we had an appointment to be in Palm Springs that afternoon. We were meeting with nephew Sean Harmon who just got a great job as a Fireman (or, more appropriately, Fire Fighter) and Paramedic with the Palm Springs Fire Department. He has a commute from where he lives in Upland in the Los Angeles Basin, but the job is worth it. As you approach Palm Springs, there are thousands of power generating windmill farms in Banning Pass, as you see here. The amount of power they generate must be significant because they are everywhere you look along and on top of the hills. Here is a picture of Sean, Denny and Stephanie (with Sean's fire hat on) next to some of their big rigs. Sean pointed out that the engines are mostly very new due to the generosity of the local Indians who appreciate their service... and who have a lot of money from their casinos. Next, you can see Grandma (Doris) Rich climbing the ladder to get a better view. She really is feeling better!!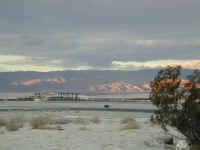 Finally, a view of the setting sun hitting the desert hills just north of Palm Springs.
Back to Top
Adventures with the Harmons and Mom Rich
We always have a great time when we visit the Harmons, and this trip was no exception. We had planned our trip to coincide with Halloween so Stephanie could have some neighborhood fun trick-or-treating. One of the first duties was to visit a nearby pumpkin patch and buy lots of pumpkins for carving. We surely bought too many, but it was fun creating the faces later. Here, you see Stephanie pushing our wheel barrow full of large pumpkins with Nancy, Denny and Grandma looking on. Like many pumpkin patches today, there is lots to do other than just pick pumpkins. They had a climbing wall Steffi could not resist. She scrambled right up to the top and rang the bell. Several boys (!) could not even get half way up. Steffi said it was cinchy. Next, you see Steffi in front of Frankenstein (a really great costume complete with a Raven and Rat on his shoulders).
Once home at the Harmons, the carving began in earnest. Nancy is working hard on her very large pumpkin which Denny thinks looks like Mickey Mouse as you can see in the next picture showing them all lit up.
Earlier this year, Denny went back to Denver to help accompany Grandma out to be with the Harmons to help get her feeling better. Well, it worked!! Here she is with Tiffany Bussell (Nancy's daughter) and Steffi. Grandma, we are surely glad you are getting well. She earns her keep at the Harmons by cleaning and baking everything from pies to cinnamon rolls (the best in the world!).
Tiffany is a second grade teacher and invited Stephanie to come to her classroom to present some details about our trip. She is pointing here to Nebraska which we had crossed both west to east and east to west. When asked how the states compared, she said they all have their unique and interesting points, even Nebraska, which is mostly known for farming. The class is looking on very attentively. Many of these kids are Hispanic, and very few have had any opportunities to travel. They enjoyed Steffi's lesson on US and Canadian geography. Once again, the Rich Family is grateful and very lucky to have this great opportunity to see the world!
Steffi loved dressing up as a colonial maiden when we visited Williamsburg, VA with her friend, Emma Carpenter. So, she decided to dress up in her costume for Halloween. People were amazed when she was so polite after receiving candy by curtseying when saying Thanks. That produced more candy on more than one occasion. Steffi is posing in front of the Harmon's house with some unsavory characters. Sean is dressed up as a skeleton with a spooky mad hatter hat. On the right is her uncle Don with some green hair. Uncle Don hooked up a talking spooky character in the middle, which could hear and talk to the trick-or-treaters as they came up to the door. This was in addition to the extensive Halloween decorations and recordings all over their house. Don really went all out for Steffi and we are thankful for the work and the delightful results! Sean would sit outside quietly and then get up and walk up behind the kids. It was very spooky and even some of the adults were screaming. A lot of fun was had by all.
One of the newest attractions in Los Angeles is the Getty Center which was completed a couple of years ago. It sits atop the hills overlooking West Los Angeles, Santa Monica, between Bellaire and Brentwood (as our guide said.... of OJ fame, you know). It is a spectacular setting and you get views of Los Angeles at every angle. The architect, Richard Meier, created a really spectacular museum through the use of thousands of 30 x 30 inch squares of rough Italian travertine marble, glass and white aluminum alternating what he called positive and negative open spaces. Coupled with a hilltop setting 889 ft. above the ocean, 10,000 trees and fabulous gardens, it is a real feast for the eye. The various shots here give you some idea of how beautiful it looked. This museum houses part of John Paul Getty's vast art collection, and it is being expanded all the time thanks to the trust. The museum is free and for the first two years was very hard to get into. You need to get a reservation ahead of time for the parking structure which comprises seven stories underground. Once parked, you travel on a tram up the hill getting the feeling that you have left the hustle and bustle of LA behind far below. We spent several hours there and only scratched the surface. There is a lot to do for kids as well. You can see Steffi dressed up in costume to pose as the marriageable young Spanish lady in a fifteenth century portrait. If you are in LA, plan to visit, and take your choice of the gallery, sculpture, architecture and garden tours. If you've been, go again!