Welcome Smith Alumnae Quarterly Visitors!
Use the Navigation Frame at the left to check out our Odyssey Archive Segments
Now that the Rich Family Odyssey is over, we still have all of our archived trip information for you to check out where we went, what we saw and did. We will also be using our web site to focus on histories of our extended family as well as to pass along information to help other eTrippers. See below for details.
Here are the Riches schlepping bags in a train station in Italy, and standing in front of their RV, Betty the Bounder: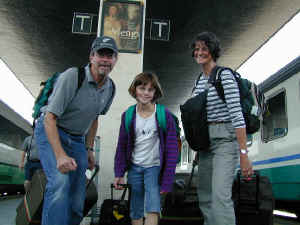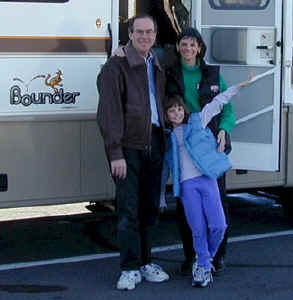 We are a family who travels, and travelers with family all over the world. Our passion for travel has taken us all over our country and around the globe, and we're eager for more. This site provides us a means of communication while we're at home and away, with friends and family and interested travelers who are eager to explore as we do. We find that every trip we take, and every encounter we make, makes the world seem smaller and our family more heterogeneous and interesting.
Check out these links to find the new information:
Click Here for an Introduction to The Rich Family Odyssey
Use the Odyssey Archives in the left Navigation frame to follow the Rich Family's 2000-2001 trip around the world in pictures and narrative through 39 countries, traveling by air, boat, train, bike, car, canoe, camel, horse, elephant, and foot. Thanks for your continuing interest!
Jennifer's Odyssey Article is now updated. Click here to view: Updated Odyssey Article
Last Odyssey update: December 2001
Click Here for Rich Family Histories

Rich, Marble, Reynolds, Schaumann, Hoback, and Wirtz Family Lore


This section will provide links, anecdotes, genealogies and photos of our diverse, worldwide family. Sincere thanks to our many cousins and other relatives who have provided content and helped us make learning about our families such a wonderful adventure!
Latest Update: Reynolds Illustrated Geneology (thanks to Margaret Reynolds Waddy)

Click Here for The eTrippers' Guide to Extended Travel

The eTrippers' Guide will provide helpful information to other travelers, especially families, contemplating extended travel…far beyond a traditional vacation. We've provided tips and links you may find helpful, and we hope you will avoid some of our more painful mistakes!
Last Update: Under construction.